Singapore is a very attractive city. What more can be a perfect honeymoon destination then an exotic tropical island situated at the tip of Malay Peninsula, also distinct as a most mesmerizing nation in South East Asia.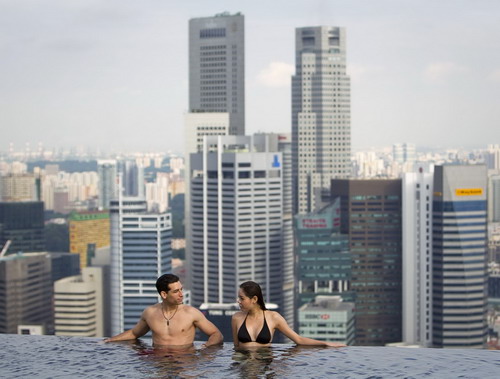 The basic culture consists of different communities such as Chinese, Malay and Hindu. Even the name is derived from the Sanskrit word Singapore, which means Lion City. This land offers visitors a provoking attraction of the natural and culinary delight for their prospect.
Like India this nation offers variety of different cultures on the shore of the river. The country has the combination of modern cultures and thrill rides.There are a few islets around, which are really worth visiting like Sentosa, St John's, Pulau Ubin and Fantasy Islands. This islet have a unique quality among them like duck and prawn farms, a exclusive show of dolphin jumping and a natural heaven of flora and fauna.
It is also a fantastic place to start off with a honeymoon as the facilities are provided by the private individuals and also by the government authorities. A couple of days are really enough to have a view of this tantalizing nation.

How to welcome you depends on the type of package you have bought for yourself, but you and your spouse will be treated by a enticing spa and the evening would proceed for a Safari Night and then further to be escorted for a candlelit dinner with your loved ones in the breath taking experience on board a moving tram.
There are a few romantic things one would love to do it with the partner like having a bath at Ritz Carlton (they offer exceptional bath packages) and lunch at the cable car from Mount Faber in Sentosa. Taking a Bumboat and a Trishaw ride would be a memorable experience for a couple, continued with the evening stroll in the Botanic Garden.

Taking the diving lessons with the partner and enjoying the roller-blading on the East coast parkway, one would be really be satisfied with the services. After so much fun carried out in the outskirts one would definitely spend some time with the next of kin.There are other more exiting features but it depends on the package that you are opting for. The honeymoon suite would cost around 40,000 INR/couple which is quite a reasonable when one is offered so many luxuries for a Honeymoon night in Singapore.